My 1987 Nissan 300ZX GL NA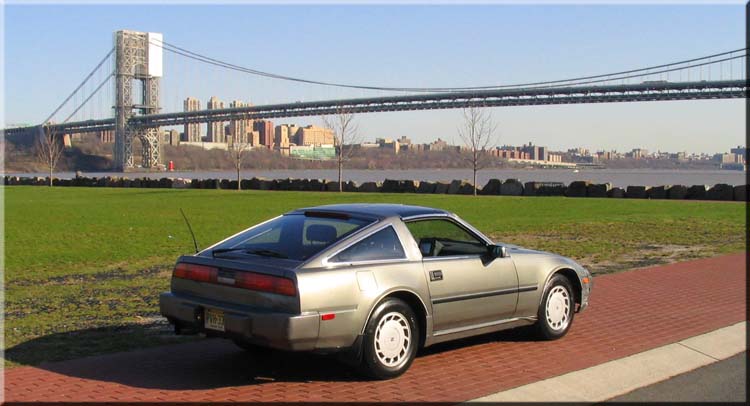 My Z is a 2 seat, VG30E naturally aspirated, FS5W71C 5 speed manual transmission (RC37 3.7 open diff.), GL model, in paint code 463 (dark metallic grey) with black interior.
I bought my Z on September 9th, 2003 for $1400. Got it from a muffler shop out on Coney Island in the city. Apparently, one of their customers had left it as payment on another job or something, I don't know the details. All that I do know is that I was a little releived when I got my new NJ title in the mail, and I knew that it cleared all the title check business. I had test driven a couple, but this was the one that was best in my price range. Knowing then what I know now, I would have probably tried to hold out for a turbo, but they are hard to find around here. Heck, I should have been able to find something in better condition than this too, but I was in a rush to find a car at the time though, so as they say, "what can you do?".
When I bought it, it had a couple problems that I knew about, and of course, more that I would find out about later. The ones I knew about were that it had some minor body damage (swap the fenders, done) needed new rear brakes, had a cracked windshield, and the speedometer didn't work. I would later find out that it also needed new rear shocks & bump stops, it liked to overheat in the summer, and the AC blew hot air when the throttle was open. Add on top of that the service records didn't indicate a timing belt job since 1998, and I had my work cut out for me. Check out the service and stereo pages for info on what I've taken care of on that list of 'fix-it' stuff
One funny thing that I like to keep track of is how much has been spent on the car since I got it. That total is currently well over 300% of what I bougt the car for...
So is it worth it? I guess I would have to say so... it's not overly expensive, the car is a blast to drive, it's pretty easy to work on, and I already have a bunch of tools from my days with my previous cars ('86 VW Golf especially), so the car is both a hobby and transportation.
I've assembled all the parts that I will need to turbocharge my car, and am pretty much just waiting to get a chance to pull the engine. Other smaller mods and stuff you can find on the service/mechanical page.
Also, check out the car group I just started for local z31 owners... North East z31s.
Tom
Modification
Tokico HP struts/shocks
BFGoodrich Traction T/A All Season High Performance Tires
Spec stage 2 kevlar clutch
OBX short shifter (from s13)
RedLine shifter and parking brake boots
z31 Info
The first generation 300ZX was introduced in model year 1984 and was produced until 1989. Chassis designation 'z31' brought the first all new chassis for a Z car since the 240 was introduced, as well as a move away from the inline 6 cylinder engines which had powered the 240, 260, and 280, towards a new V6. The V6 displaces 2960 cc, and produces 160 or 200 hp in the naturally aspirated and turbocharged versions, respectively (165/205 in 88 and 89).