New Fog Lights
2/07/05 —
My fog lights hadn't worked since I got the car, and I decided that it was time for an upgrade. The stock wiring was in need of repair, and both light housings were rusted through. I looked for stock replacments for a while, but could not find good units for a decent price, so I decided to go with aftermarket units.
I picked up the new lights from PepBoys for $30. They have a crystal rod to focus the light, which supposedly results in a nice wide low beam, perfect for fog lights.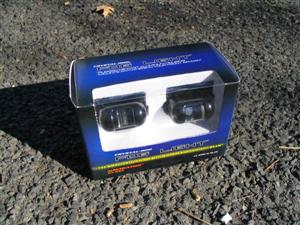 Time to get to work.
Replaced the bulbs which came in the lights with a pair of Sylvania Silverstar H3 Bulbs


| | | |
| --- | --- | --- |
| | | |
| Real crystal rod.. heavy | | Silverstar installed |

Disconnected the negative lead from the battery (10 mm socket).

Attached the lights to their brackets and roughly aimed them.

Unscrewed the coolant reservoir and moved it out of the way.
Unscrewed the relay box to get to the underside of it. Jumpered the Orange/Black stripe wire to 12+ at the battery. This bypasses the fog light section of the stock headlight switch, and allows the fog lights to be run whenever the fog light switch is on, independent of the headlights. I did this so I can drive around just using the fog lights if I want while I am in a city at night. Also replaced all of the wiring after the relay to the lights.


New 12+ lead to fog light relay
New ground to frame, and power leads
up to the relay box

Put everything back together.
I am very pleased overall with the look and function of the new lights. I can see a lot better at night, especially very close to the sides of the road immediately in front of the car. I'd say that they work just as advertised. The crystal rod does throw a nice wide low beam. The pictures below really tell the whole story.
| | | |
| --- | --- | --- |
| | | |
| | | I love the look with the headlights down |
| | | |
| | | |
| Head lights alone | | Head lights and fogs |
Now before somebody asks, yes the fog light colors do not exactly match in these pictures. One of the Silverstar bulbs that I had was defective, and thought it looked fine, did not work.