Carputer Installed
3/20/05 —
Finally time to put it all together. The gauges were relocated. The LCD touch screen was mounted in the fiberglass piece. It was time to put everything together and fire up the computer.
Here are the specs on the computer:
Pentium III 650
256 MB RAM
2.0 gb SanDisk ExtremeIII Flash card as system drive with Flash to IDE adapter
40 gb HDD storage
Windows 2000 with custom small boot configuration
Peripherals and supporting hardware
TView SVGA USB Touch Screen (1 VGA and 2 RCA inputs)
600 w (400 continuous) DC-AC inverter
Powered USB hub
Bluetooth USB Adapter
Mini Laptop Style USB Keyboard
NMEA Compatible USB GPS Receiver
This was where I really knew what I was doing so I tried to put it together nice. The power and system stuff is stashed in the space behind the seats, and the computer is hidden under one of the t top bags behind the passenger seat.

Not permanently mounted yet

Fairly inconspicuous

Somewhat more conspicuous
To keep things speedy, I set the system up so that it boots very quickly off of a flash card. I also hibernate the system (suspend to flash disk, 0 power usage) instead of shutting it down, so it takes about 15 seconds from turning it on to it being usable. I am running Windows 2000, and have stripped out about everything that I don't need, so it is actually pretty quick. I thought that I would be upgrading shortly, but I haven't really had a need to. Here's a list of stuff that I can currently do with the system
GPS Navigation
I bought DeLorme StreetAtlas 2005 and a USB GPS receiver. The combination makes for a decent GPS navigation system. I find that StreetAtlas' maps are sometimes incorrect, but I have found that with nearly every map database I have used around here, these crazy city streets a maze anyway. Luckily, when I get off route, the software recalculates. It has speech capability, so it reads me the directions and tells me when turns are coming up, just like the units that are thousands of dollar options in new cars. It also does voice command, so I can say "computer route home" and it'll give me directions home from wherever I am.
| | |
| --- | --- |
| Not permanently mounted yet either (GPS receiver) | Apparently, Elysian park is at exactly 40.448476° North and 74.15382° West |
Bluetooth Connectivity
The high power (100 foot) bluetooth adapter allows the computer to connect with my phone when I get in the car. This is pretty sweet, because now I can use the car's stereo and the microphone that I put in as a gigantic, super high fidelity hands free speaker phone. And I can create network connections with the phone as well. All without taking it out of my pocket or touching it at all, just the computer.
Mobile Networking
The bluetooth connection to the phone allows me to make GPRS connections. EDGE actually... I have a Nokia 6820 and get faster than GPRS speeds on the Cingular (ex AT&T) network. This means that I can browse the internet, instant message, check my email, whatever, all from the car with the touch screen, at broadband speed.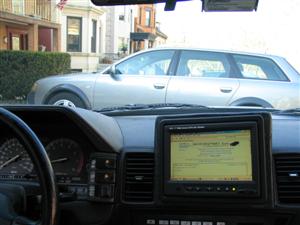 If the Z breaks down, I can post and get help on the spot, hah
TechEdge Wide Band O2 Connection
The computer has a serial connection that I have hooked to my TechEdge Wide Band Oxygen sensor controller. Running Justin's logger software, I can check out what is going on with the exhaust as well as view the values of the 7 independent logging inputs (rpm, 0-5 volt, 3 thermocouple).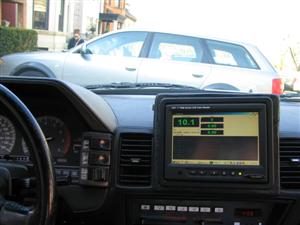 I'm not really running 10.1... the controller wasn't connected for this picture
And things that I haven't done yet but will shortly:
802.11g Receiver
Reverse camera
Passing camera (front passenger bumper, forward facing)
Install new ports on dashboard
Integrate PC with Basic microcontroller

Vehicle Dynamics Display

"G" readout
Temperature readouts (pre, post intercooler, coolant, oil, whatever)
DIsplay fan PWM operation status

Video source auto switching (reverse camera when reversing, etc)
Modify Intermittent wiper settings, etc